News Alert: On Monday, ie 25th April 2022, SpaceX founder Elon Musk acquired Twitter for approximately $44 billion with shares valued at $54.20

Twitter is a social media platform where users communicate with each other with a message called 'Tweets'. Twitter was founded in the year 2006 by 6 cofounders Jack Dorsey, Evan Williams, Biz Stone, and Noah Glass.

More About Twitter?
Twitter is best known for breaking news tweets from politicians and celebrities, but it provides a platform for millions of users to publish their thoughts, interact, share content and read breaking news.
Twitter is absolutely free to use for individuals or business owners. Once a user has created an account, they can post content in form of tweets up to 280 characters and up to 2,400 times per day, which are automatically distributed to followers in a feed that is constantly refreshed.
Some Interesting Facts about Twitter:
According to incrementors.com :
1.59.2% of users on Twitter are between the age of 25 to 49 years old. 
2. An average user spent 3.39 minutes on twitter
3. One of the most popular account on Twitter is @BarackObama
History of Twitter:
How Does Twitter Make Money?
Twitter's business model is divided into two-income sources:
Advertising Service
Data Licencing
1. Advertising Service
Nearly 80% of earnings Twitter makes from an advertising service. Twitter provides multiple advertising services for its users.
A. Account Promotion
Twitter provides an advertising service to new accounts to gain followers based on location, interest, and demographics. In order to gain followers for the account, many users pay Twitter to promote their accounts so they appear as top suggestions.
When users click on the top suggested account in the suggestions, twitter received the income.
B. Video Promotion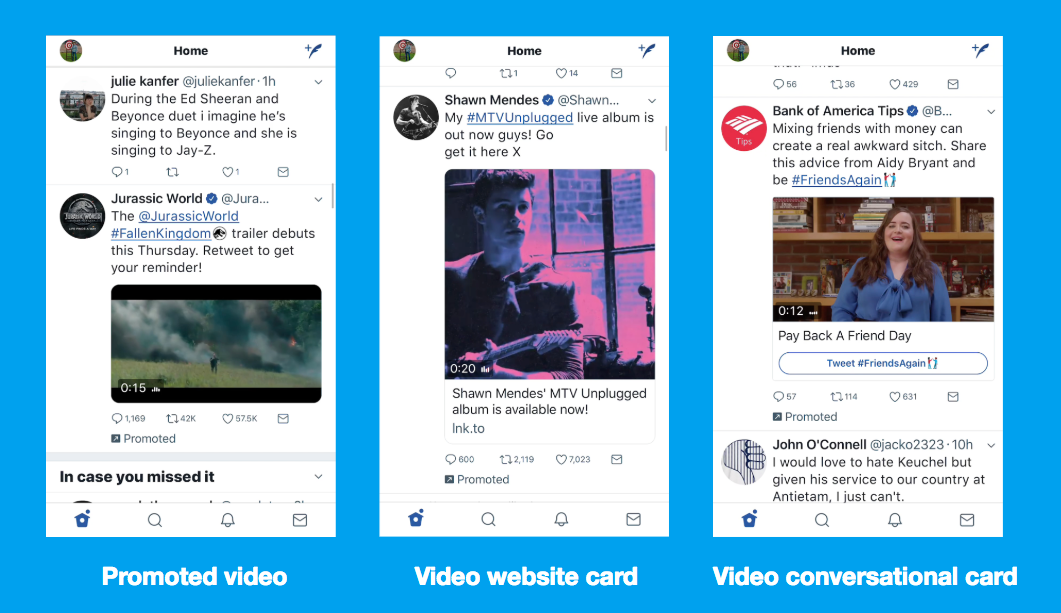 People come to Twitter with a discovery mindset, and relevant, fresh videos are the perfect way to catch their eye. Video Views campaigns extend the reach of videos and help brands drive awareness with efficient, quality views. These campaigns also foster connections with customers who are more likely to engage and watch videos in all kinds of media-friendly formats including native video, GIFs, and live video.

C. Tweet Promotion
Promoted Tweets (aka Sponsored Tweets) are standard Tweets, except they're paid for by advertisers to increase their Twitter reach and/or engagement. Promoted Tweets are labeled as such, but otherwise, they can be liked, commented on, and retweeted.
When advertisers pay for a Promoted Tweet, it enables them to place their best content in front of their targeted audience at the brand's preferred time. For ad placement, advertisers pay for their Tweets to display in several different locations on Twitter

D. Trending Tweets
Using a promoted trend Twitter sends promoted content / sponsored topics to the top of the trending list. Promoted tweets look like your tweet is one of the discussed topics on Twitter at a given time.

2. Data Licencing:
Data licensing is the 2nd biggest earning source for Twitter. Twitter makes 15-20% of revenue from data licensing. Beyond its public application program interface, Twitter sells subscriptions to public data to companies and developers seeking to search and evaluate real-time and historical data on the platform.

Companies can draw rich data from more than 100 million daily active users, which can help them cater to consumer needs more personally.

Twitter generates its income through data licensing in two ways:
Mobile advertising exchange services: Twitter offers mobile advertising services through the MoPub exchange. MoPub is a Twitter service offering monetization solutions to mobile app developers.
Provision of data insights: Twitter's partners and companies that subscribe to premium APIs have permission to search and analyze past and real-time information found in public tweets.
Data Licencing info Source: https://www.gobankingrates.com
Twitter Revenue Breakdown:
As per Q4 2021, Twitter made revenue of 1567 Million $. In which 1413 Million $ money was made from advertisement service where 154 Million$ money was made from data licensing & other services.
Conclusion:
Bottom line is that Twitter is still in its beginning to make profits. In 2021 Twitter saw revenue of 5077282 $ with a loss of 221409$.
Frequently Asked Question:
Does Twitter Sell Your Data?
According to Cnet "Twitter isn't shy about sharing information with its business partners (read: advertisers) about you and your browsing habits. It passes on your data to help serve targeted ads on your feed, and it also collects information about you when you visit a site that has an embedded tweet or Twitter share button.
Is Twitter Making a Profit?
According to NYTimes: Twitter reported that its revenue was $1.2 billion for the first three months of the year, up 16 percent from a year earlier but lower than the 20 percent growth rate the company had predicted for the year. Profit was $513 million, or about 61 cents per share.
How Much Money Does Twitter Make in a Year?
3.72 billion U.S. dollars

Who is the highest paid on Twitter?
Kevin Hart way out in front as Twitter's top-earning celebrity. The actor and comic has made $13,965,550 from 46 promoted tweets since joining Twitter in 2009
Watch a Complete Video on Twitter Business Model (Hindi):
Also Read:
How does Shaadi.com Make Money?
Dream 11 Business Model & Case Study